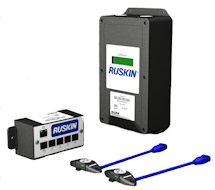 EFAMS-SI-FC-50-26 | Ruskin Manufacturing | Flow
AIR MONITORING STATION, SINGLE INLET, STD. DEN., FORWARD CURVE, 50FT CABLE, NO XFMR
Manufacturer:
Ruskin Manufacturing
MPN:
EFAMS-SI-FC-50-26
SKU:
EFAMS-SI-FC-50-26
availability:Usually Ships in Less Than 10 Business Days
add to cart

product family specifications
SURFACE-MOUNT SENSOR ENCLOSURE
Aerodynamically shaped, high impact ABS, with stainless sensor cap. U.L. 94 flame rated housing conforms to the inlet bell contour providing a low profile installation that reduces pressure drop, and saves energy
Two sensor circuits mounted opposite of each other
SENSOR CIRCUIT (two standard, up to four per fan location)
Two hermetically sealed, heated thermistors
Two hermetically sealed, ambient thermistors
Airflow: ±3%.
Temperature: ±0.10° F (0.056°C)
Airflow Rate: 0-10,000 FPM
Temperature: - 25° F to 140° F (-32°C to 60°C)
Humidity: 0-99% RH, non-condensing
ROUTER UNIT (one per fan location)
One microprocessor based multiplexer circuit
Sensor/communications circuit
All circuits encapsulated in electronic potting compound
UL Plenum rated shielded CAT5e network cable (10' [3.05m] standard). RJ-45 Connectors with dust boot cover and gold plated pins. Digital interface between router and transmitter.
Microprocessor based. 6" x 113/8" (152mm x 289mm) nominal control enclosure.
16x2 character LCD display (airflow, temperature & diagnostics).
Seamless "plug & play" connectivity to Router & 2-4 sensor circuits.
24VAC internally fused power supplied by others.
Velocity Output: Field selectable 4-20mA (Std.) or 2-10 VDC using 500 ohm resistor.
Temperature Output: Field selectable 4-20mA (Std.) or 2-10 VDC using 500 ohm resistor
Temperature: -20° F to 120° F (-29° C to 49° C)
Humidity: 0-99% RH, non-condensing
product family features
• Includes a minimum of two sensors, a router and transmitter box with LCD display showing both temperature and air flow velocity or volume in either FPM, CFM or Meters per second or Liters per second.
• Easily field configured for any size fan.
• The transmitter box provides two isolate 4-20 mA analog linear signal outputs representing measured air flow and temperature and shares the same platform as our EAMP, electronic air measurement probes.
more information & related documents
Ruskin's EFAMS electronic fan-inlet air measurement station utilizes thermal dispersion technology combined with low-pressure drop aerodynamic sensors to measure the airflow at the highest velocity point in the system. This lower pressure drop equates to lower cost of operation over the life of the building when compared to other fan inlet devices. The unique design does not rely on measurement of 100% of the air entering the fan, only measurement of an air flow that we know will track the actual air flow through the fan. The benefit is a more accurate air flow measurement (taking into account system effects) without adding a significant energy penalty, typical of most aftermarket fan inlet air measurement devices.
AIR MONITORING STATION, SINGLE INLET, STD. DEN., FORWARD CURVE, 50FT CABLE, NO XFMR