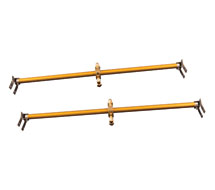 SR-41.75 | Kele | Flow
SPLIT RING MIDBELL INSTALLATION TEMPLATE 41.75
Manufacturer:
Kele
MPN:
SR-41.75
SKU:
SR-41.75
availability:Usually Ships in Less Than 21 Business Days
add to cart

product family specifications
Requires a Differential Pressure Transmitter
Differential air pressure ports (Total P. & Static P)
Velocity (FPM) = 4005 x ( √ ∆P in ″WC )
Fan Inlet PITOT array w/ 2 ports, Total P. & Static P.
.001 ″WC to 0.5 ″WC from 400 to 10K FPM
20° to 350℉ (-6.7° to 177℃)
1/4″ barbs for 1/4″ OD poly or copper tubing
Pressure transmitter per MNFR
Drill & screw on fan inlet lip
6063-T5 Anodized aluminum
1 to 12 lb. per order size
product family features
Multiple total and static pressure sensing port
Averaging internal manifold
Insensitive to flow angle variations of as much as ±20° when faced in the normal direction of flow
Standard construction is 6063-T5 anodized aluminum
Standard elements can be operate up to 350℉
All elements can be operated in humidity ranges of 0 to 100%
Good salt air and mild acid resistance
more information & related documents
The Kele KIP2 Series is an averaging airflow measuring element assembly specifically designed for installation in the inlet cone of centrifugal fans or inlet bell of vane-axial fans. The design of these primary elements provides a means of accurate measurement of fan capacity along with ease of installation. Each assembly is complete with two airflow measuring elements and pivot mounting hardware. The basic design is a ″cylindrical tube within a cylindrical tube″ creating independent chambers which permit the simultaneous measurement of both total pressure and static pressure. Kele is the leading supplier of building automation products. When you need the right product, right now, count on Kele.
SPLIT RING MIDBELL INSTALLATION TEMPLATE 41.75
KIP2 Kele Install Manual