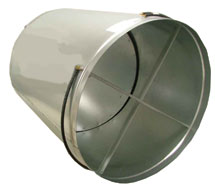 RAG07N | Johnson Controls | Flow
RA-2000 AIRFLOW SYSTEM 7IN DPT NO ACTUATOR
Manufacturer:
Johnson Controls
MPN:
RAG07N
SKU:
RAG07N
availability:Usually Ships in Less Than 12 Business Days
add to cart

product family specifications
0.15 scfm maximum per inch of blade circumfrence at 4-inch w.g.
8 in diameter at 2 in w.g. 52 lb./in.
16 in diameter at 2 in w.g. 84 lb./in
24 in diameter at 2 in w.g. 116 lb./in
Pressure Drop (in. w.g.) - Fully Open
1,000 cfm 2,000 cfm 3,000 cfm 4,000cfm
12 in. 0.017 0.06 0.15 0.25
24 in. 0.005 0.010 0.010 0.010
Standard Operating Conditions -40° to 200℉ (-40°to 93℃)
Actuator -4° to 122℉ (-20° to 50℃)
Damper 5 lb/sq. ft. (2.7 kg/sq. ft.)
Actuator 2.9 lb (1.6 kg) per actuator
product family features
Formed shroud inserts easily into round ductwork
One-piece construction increases rigidity and strength
Optional factory-installed actuator reduces installation and commissioning time
Airfoil shaped flow sensing blades 18 inch (457 mm) diameter and larger or ABS plastic flow cross on all other units limit pressure drop through the damper
DMPR-RA001 pressure transmitter is included
more information & related documents
The Johnson Controls RA-2000 Series airflow measuring system is equipped with a one-piece ABS plastic flow sensing cross with a 16 inch (406 mm) diameter or less, and a two-piece anodized aluminum extrusion sensing tube with an 18 inch (457 mm) diameter and larger. The RA-2000 Airflow Measuring system is designed to meet industry requirements for a round air measuring system with low leakage and east installation to spiral ductwork. The design of the RA-2000 system incorporates a low leakage control damper with a neoprene seal placed between two round blades. The airfoil sensing tubes sample the air pressure across the full diameter of the duct.
RA-2000 AIRFLOW SYSTEM 7IN DPT NO ACTUATOR