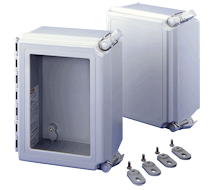 A181610CHSCFGP | Hoffman Enclosures | Enclosures
NEMA 4X 18X16 FIBER ENCLOSURE SCREW W/PERF
Manufacturer:
Hoffman Enclosures
MPN:
A181610CHSCFGP
SKU:
A181610CHSCFGP
availability:Usually Ships in Less Than 10 Business Days
add to cart

product family specifications
product family features
Excellent impact resistance
more information & related documents
The Hoffman Fiberglass Series NEMA 4X Enclosures are constructed from compression-molded, fiberglass-reinforced polyester. These enclosures offer excellent impact resistance, thermal insulation, and corrosion resistance. Smooth-surfaced, lightweight, nonconductive, and flame-retardant, they can be easily drilled. The gray color is molded in. This type uses a stainless steel hinge and are UL listed, File #E64358.
NEMA 4X 18X16 FIBER ENCLOSURE SCREW W/PERF
AA Series datasheet