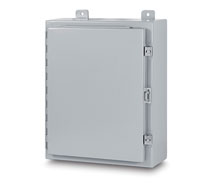 AB36246N | Austin Electrical Enclosures | Enclosures
NEMA 12 36X24X6 ENCL
Manufacturer:
Austin Electrical Enclosures
MPN:
AB36246N
SKU:
AB36246N
availability:Usually Ships in Less Than 15 Business Days
add to cart

product family specifications
more information & related documents
Austin NEMA 12 enclosures house electrical and pneumatic controls, instruments, and components. These enclosures provide protection from corrosion, windblown dust and rain, splashing water, and hose-directed water. Kele is the leading supplier of building automation products.
Austin Electrical Enclosures
Austin NEMA 12 enclosure datahseet