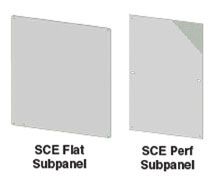 SCE48P24 | Saginaw Control & Engineering | Enclosures
STEEL PANEL 45.00X21.00
Manufacturer:
Saginaw Control & Engineering
MPN:
SCE48P24
SKU:
SCE48P24
availability:Usually Ships in Less Than 5 Business Days
add to cart

product family specifications
See model description for sizes.
product family features
Flat, powder coated white
Perforated subpanels with mounting holes
Variety of sizes and custom sizes available
more information & related documents
The Saginaw SCExPx subpanels are flat subpanels and powder coated in white. The Saginaw SCExNxMPP perforated subpanels have 0.13″ mounting holes with 0.25″ staggered patterns for the installation of lightweight control components with #8 self threading screws, for use in small and medium size Type 1 enclosures. The perforated subpanels are also powder coated in white.
Saginaw Control & Engineering
SCE Perf Panel Datasheet