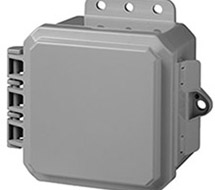 P108CLPO-RPL | Integra Enclosures | Enclosures
REPLACEMENT COVER WITH GASKET, IMPACT 10X8X6, LOW PROFILE HINGE, INTEGRATED LATCH, OPAQUE
Manufacturer:
Integra Enclosures
MPN:
P108CLPO-RPL
SKU:
P108CLPO-RPL
availability:Usually Ships in Less Than 7 Business Days
add to cart

product family specifications
Instrumented Dart Impact @ 73° F
Falling Ball Impact @ 73° F
Deflection Temperature @ 264 psi
product family features
Standard Color – light gray with a high gloss finish

Best material – bases, opaque covers, and clear covers are all made of high-impact, UV resistant polycarbonate

Easy ordering – One part number equals one completely assembled enclosure

Super easy use – mounting flanges integral, so no extra hardware needed

Flexible Interior Mounting – bosses on rear wall and lid of the opaque enclosure provide multiple mounting options for

din rail, back panels, or other components

Advanced face plate mounting system – Brand new completely unique and easy

Secure – Choose your level of protection: pad-lockable, tamper screw or tamper tag capable

Frequency Friendly – Available with absolutely no metals of any kind on the enclosure which is extremely favorable

for sending and receiving wireless signals

UL-50 / c-UL Listed (file # E207562)
more information & related documents
Integra's Impact Line Series enclosures are the most versatile, feature-packed, aesthetically pleasing, Nema, and UL rated, non-metallic enclosures available. For more heavy-hitting environments, the Impact Line Series is designed to handle high-impact settings. Armed with interior mounting systems, integrated mounting flanges, and various latch and hinged styles, all four sizes have proven to be dependable.
REPLACEMENT COVER WITH GASKET, IMPACT 10X8X6, LOW PROFILE HINGE, INTEGRATED LATCH, OPAQUE