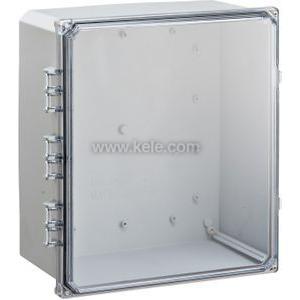 H141206HC-6P | Integra Enclosures | Enclosures
Enclosure, Polycarbonate, Premium Series, 14X12X6, NEMA 4X/6P, Screw/Hinged, Clear Cover, Mounting Feet, Four Screws
Manufacturer:
Integra Enclosures
MPN:
H141206HC-6P
SKU:
H141206HC-6P
availability:Usually Ships in Less Than 21 Business Days
add to cart

product specifications
Enclosure, Polycarbonate, Premium Series, 14X12X6, NEMA 4X/6P, Screw/Hinged, Clear Cover, Mounting Feet, Four Screws
Enclosure, Polycarbonate, 14X12X6, NEMA 4X/6P, Screw/Hinged, Clear Cover, Mtg Feet, Four Screws
product family features
Standard color – light gray with a gloss finish

Best material – bases, opaque covers and clear covers are all made of high-impact, UV resistant polycarbonate

Easy ordering – one part number includes base, lid, mounting feet or flanges and all lid fastening hardware (mounting

panels sold separately)

Flexible interior mounting – features the unique and patented Integra adjustable depth "T-Rail" back panel mounting

system (back panel and adjustable brackets sold separately)

Features multiple bosses for easy installation of devices and DIN rails

UL-50 / c-UL Listed (files # E229365, # E207562)
more information & related documents
Integra's Premium Line Series enclosures are the most durable, non-metallic, Nema, and UL rated enclosures available. From the extremely versatile mounting options inside the enclosure to having the most off-the-shelf accessories, the Integra "Made in the USA" Premium Line enclosures provide great value to any application. Proven to be the most traditional product line, there are eleven different sizes equipped to handle any environment.
ENCLOSURE, POLYCARBONATE, 14X12X6, NEMA 4X/6P, SCREW/HINGED, CLEAR COVER, MTG FEET, FOUR SCREWS
Premium Line Sereis Chemical Resistance
Premium Line Series 6X6X4
Premium Line Series 8X6X4
Premium Line Series 8X8X4
Premium Line Series 10X8X2
Premium Line Series 10X8X4
Premium Line Series 10X8X6
Premium Line Series 12X10X4
Premium Line Series 12X10X6
Premium Line Series 14X12X6
Premium Line Series 16X14X7
Premium Line Series 18X16X10
Premium Line Series Accessories