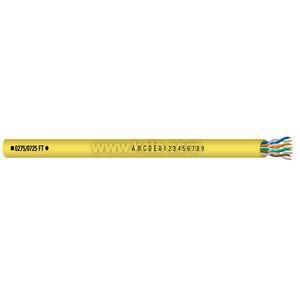 5556130 | Windy City Wire Cable & Technology Products | Electrical Wiring Materials
24 Gauge/4 Pair Unshielded Solid CAT 5E Plenum Yellow Jacket 1000FT RackPack
Manufacturer:
Windy City Wire Cable & Technology Products
MPN:
5556130
SKU:
5556130
availability:Usually Ships in Less Than 1 Business Days
add to cart

product specifications
24 Gauge/4 Pair Unshielded Solid CAT 5E Plenum Yellow Jacket 1000FT RackPack
24/4P UNSHLD SOL C5E YLW JKT PLENM PVC 1000FT
product family features
Comprehensive cable management solutions
Variety of wire to meet your needs: Building Wire, Category Cables, CCTV, Fire, Gas/Oil Resistant, Institutional, MC Lighting, Outdoor, Security/Access Control, Temperature Control, Cabling Accessories
more information & related documents
Windy City Wire has been leading the way in low-voltage wire innovations since 1994. As a company, we are dedicated to developing solutions that generate significant results for our customers. We don't want to simply sell cable, we want to provide comprehensive cable management solutions that save integrators time on their projects from concept to completion. All Windy City Wire products are created with a commitment to excellence and are designed with our customers' needs in mind. From our Smartwire® cables to our patented RackPack® Field Systems Solution, Windy City Wire is offering real solutions to real issues faced by integrators in the field every day. All the SmartWire cables are Made in the USA! And they also have the ability to create custom cables.
24 GAUGE/4 PAIR UNSHIELDED SOLID CAT 5E PLENUM YELLOW JACKET 1000FT RACKPACK
Windy City Wire Cable & Technology Products