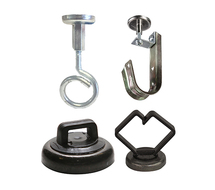 W62401 | Connectair | Electrical Wiring Materials
1/2" MAGNETIC CABLE HOLDER COLOR: WHITE MAGDADDY F
Manufacturer:
Connectair
MPN:
W62401
SKU:
W62401
availability:Usually Ships in Less Than 1 Business Days
add to cart

product family specifications
product family features
Mag Daddy products consistently saves 40% in labor costs
We have over 30 functional products for low voltage and security industries
Most of our products are UL listed and Plenum rated
Available through national and local distributors, see magdaddy.com
Our cable hanging tool can eliminate the need for a ladder and in some instances, eliminate the cost of a scissor lift
more information & related documents
The Mag Daddy products are magnetic fasteners which can save labor time and money on installs. These are extremely high performance fasteners that have magnetic bonds that become stronger over time. They are versatile and can be used in many different applications both inside and outside of panels to keep cables organized and secure.
1/2" MAGNETIC CABLE HOLDER COLOR: WHITE MAGDADDY F