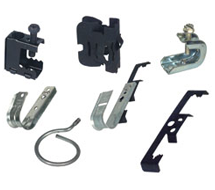 * product family image displayed
BC-200 | Wesco | Electrical Wiring Materials
BEAM CLAMP FOR UP THRU 5/8INFLG PKG50
Manufacturer:
Wesco
MPN:
BC-200
SKU:
BC200
Availability:
Usually Ships in Less Than 11 Business Days
add to cart

product family specifications
more information & related documents
The CAT Series "J" hooks and Model 4BRT bridle rings make a cumbersome job easy. Each hook or ring can be attached using a beam clamp. The EWK Series is a sturdy, easy to use Knockout Seal.
BEAM CLAMP FOR UP THRU 5/8INFLG PKG50