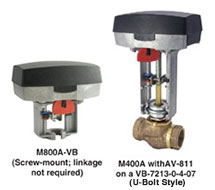 M400A | Schneider Electric Buildings | Control Valves
90LBF, PROP/FLTG, NSR, 24VAC, TAC GLOBE VALVE
Manufacturer:
Schneider Electric Buildings
MPN:
M400A
SKU:
M400A
add to cart

product family specifications
Floating or Proportional 0/2-10 VDC or 4-20 mA
Two knockouts, 7/8" (2.2 cm)
Two SPDT, 4A resistive @ 24 VAC (model specific)
Non-spring return, direct or reverse DIP switch selectable
3/8" to 2" (.9 to 5.2 cm)
Floating, 60 or 300 seconds; Proportional, 15 seconds (for 1/2" stroke)
AV-821 Used with U-Bolt version on current VB-7XXX valves
AV-822 Used with U-Bolt version on current VB-8XXX valves and older VB-9XXX valves
14° to 122℉ (-10° to 50℃) for chilled water applications; maximum temperature reduces to 90℉ (32℃) when media temperature is 366℉ (186℃)
15% to 95% RH non-condensing
NEMA 2 (IP54) if both conduit connectors used, otherwise NEMA 1 (IP40)
Tall U-Bolt Style 9.5"H x 6.3"W x 4.6"D (24.2 x 16.0 x 11.7 cm)
Screw Mount 6.4"H x 6.3"W x 4.6"D (16.3 x 16.0 x 11.7 cm)
Note: Screw version actuators designed for VB-7XXX only.
product family features
Floating or proportional control in the same actuator
Proportional configuration 0-10, 2-10 VDC or 4-20 mA, 500Ω resistor included
Direct/Reverse action (switch selectable)
Electronic valve sequencing and flow characteristic (equal percentage or linear) selection
Torque overload protection (full stroke)
more information & related documents
The Schneider Electric Forta Series globe valve actuator is a programmable linear actuator family for use with VB7000, VB8000 and VB9000 series two- and three-way valves. The actuators are easily configured for floating or proportional control, direct or reverse action, stroke timing and flow characteristics. An automatic input control signal setup allows for easy field installation onto existing Scheider Electric globe valves. The Forta actuator can also be purchased as part of a complete valve assembly for new applications/installations (order the VU Series).
90LBF, PROP/FLTG, NSR, 24VAC, TAC GLOBE VALVE
Schneider Electric Buildings