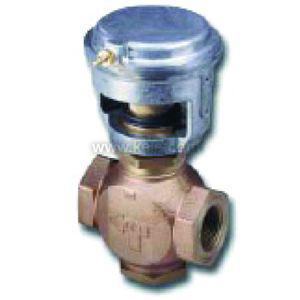 VG7241GT+3008D | Johnson Controls | Control Valves
1/2" Globe Valve, Brass Trim, 4.6Cv, Spring 4-8psig, Closeoff 192psig, 2-Way Open
Manufacturer:
Johnson Controls
MPN:
VG7241GT+3008D
SKU:
VG7241GT3008D
add to cart

product specifications
1/2" Globe Valve, Brass Trim, 4.6Cv, Spring 4-8psig, Closeoff 192psig, 2-Way Open
product family features
Wide actuator selection, electric and pneumatic
Corrosion protection with brass and optional SS trim
Equal percentage and linear characteristics
Longevity with over one million cycles tested
Serviceability with in-place valve repacking
more information & related documents
The Johnson Controls VG7000 Series Globe valves are designed for hot water, chilled water, or steam control in HVAC systems. The globe design exhibits excellent control with two-way equal percentage and three-way linear response. The valves come in two- or three-way NPT thread configurations. All the valves can be fitted with many different control actuators (both electric and pneumatic) and with a variety of control signals, spring ranges, and failsafe operation.
VG7000 Electric Valve Assemblies Ordering Guide