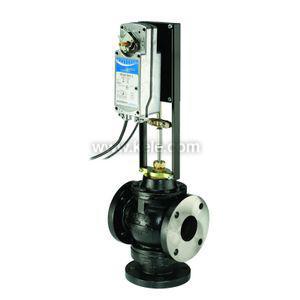 VG2831TM+92NGGA | Johnson Controls | Control Valves
2-1/2" Globe Valves, Flanged, Spring Return, 54Cv, Closeoff 45psig, Proportional, No Switches, 3-Way Mix
Manufacturer:
Johnson Controls
MPN:
VG2831TM+92NGGA
SKU:
VG2831TM-92NGGA
availability:Usually Ships in Less Than 8 Business Days
add to cart

product specifications
2-1/2" Globe Valves, Flanged, Spring Return, 54Cv, Closeoff 45psig, Proportional, No Switches, 3-Way Mix
3W/2.5IN/54CV/FLG/MX/ELEC/M92X/PROP/SR/0-10VDC
product family features
2-1/2″ through 6″ flanged cast iron valves
Several choices in electric and pneumatic actuation
Every valve factory tested to assure tight close-off
Order valve body alone for field assembly, or pre-assembled with actuator to fit the application
more information & related documents
The Johnson Controls VG2000 Series flanged globe valves from are designed to control the flow of water and steam in HVAC systems. Available in 2-1/2″ through 6″ pipe sizes, these ANSI Class 125 valves are available in normally open (N.O.), normally closed (N.C.) and 3-way mixing configurations.
3W/2.5IN/54CV/FLG/MX/ELEC/M92X/PROP/SR/0-10VDC