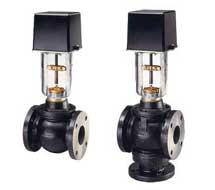 VG2231UM-845E02 | Johnson Controls | Control Valves
2W/3IN/83CV/FLG/NO/PNEU/MP84/9-13LB/EPOS
Manufacturer:
Johnson Controls
MPN:
VG2231UM-845E02
SKU:
VG2231UM-845E02
availability:Usually Ships in Less Than 8 Business Days
add to cart

product family specifications
Hot water, chilled water, 50% glycol solutions, or steam for HVAC systems
2-1/2″ and 3″ Valves 3/4″ (19 mm)
3″ and 4″ Valves 1-1/8″ (29 mm)
Meets requirements of ASME B16.1, Class 125.
Steam 35 psig (241 kPa) at 281℉ (138℃)
Water 175 psig (1,206 kPa) up to 150℉ (66℃)
Decreasing to 125 psig (861 kPa) at 281℉ (138℃)
Inherent Flow Characteristics
Spring Ranges (MP8000 Series Actuators)
3 to 7, 4 to 8, and 9 to 13 psig
(21 to 48, 28 to 55, and 62 to 90 kPa)
Maximum Recommended Operating Pressure Drop
35 psig (241 kPa) for all valve sizes
Maximum Actuator Supply Pressure
(Pneumatically Actuated Valves Only)
25 psig (172 kPa) maximum
Maximum Closeoff Pressures
Dependent on valve size and actuator used
Materials of construction
Body Cast iron with black lacquer finish
Packing Ethylene propylene terpolymer (EPT) ring packs
Valve Fluid Operating Temperature Limits
35° to 281℉ (2° to 138℃), 35 psig (241 kPa) saturated steam
* Proper water treatment is recommended; refer to VDI 2035 Standard.
** Rangeability is defined as the ratio of maximum flow to minimum controllable flow.
The performance specifications are nominal and conform to acceptable industry standards. For application at conditions beyond these specifications, consult Johnson Controls, Inc. Neither Kele, Inc., nor Johnson Controls, Inc., shall be liable for damages resulting from misapplication or misuse of its products.
product family features
2-1/2″ through 6″ flanged cast iron valves
Several choices in electric and pneumatic actuation
Every valve factory tested to assure tight close-off
Order valve body alone for field assembly, or pre-assembled with actuator to fit the application
more information & related documents
The Johnson Controls VG2000 Series flanged globe valves from are designed to control the flow of water and steam in HVAC systems. Available in 2-1/2″ through 6″ pipe sizes, these ANSI Class 125 valves are available in normally open (N.O.), normally closed (N.C.) and 3-way mixing configurations.
2W/3IN/83CV/FLG/NO/PNEU/MP84/9-13LB/EPOS