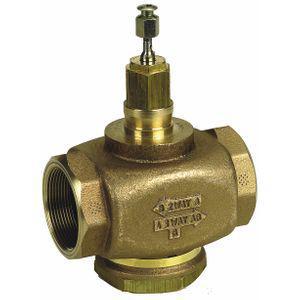 V5011N1040/U | Honeywell | Control Valves
Two-way, Globe, 1/2 in, (Female) NPT, 4.7 Cv, Water or Glycol or Steam
Manufacturer:
Honeywell
MPN:
V5011N1040/U
SKU:
V5011N1040L7161
Availability:
Usually Ships in Less Than 15 Business Days
add to cart

product specifications
Two-way, Globe, 1/2 in, (Female) NPT, 4.7 Cv, Water or Glycol or Steam
product family features
Two- and three-way body patterns from 1/2" to 2"
Two-way equal percentage characteristics
Three-way linear characteristics
Floating, two-position, or proportional control actuators
Compatible with MP953 pneumatic actuators
more information & related documents
The Kele V5011 Series is a two-way threaded globe valve used for control of water or steam. The V5013 Series is a three-way threaded globe valve used for mixing control of water. The valves can be ordered assembled with actuators for spring return or non-spring return operation, or the valve, linkage, and actuator may be ordered separately for field assembly.