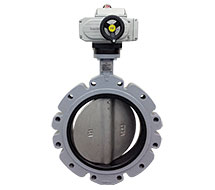 KB2-2-25-HPMSC | Valve Solutions | Control Valves
2W/2-1/2IN/200PSI/HP/PNEUM/3-15/PSI/MOD/SR/CLOSED
Manufacturer:
Valve Solutions
MPN:
KB2-2-25-HPMSC
SKU:
KB2225HPMSC
availability:Usually Ships in Less Than 3 Business Days
add to cart

product family specifications
135 thru 43116 (See ordering)
10:1 for 30° to 70° range
Maximum Closeoff Pressure
100 PSI, 150 PSI, 200 PSI
KB2 Models 200 PSI (up to 10″); 150 PSI (12″ and up)
-30° to 225°F (-34° to 107℃)
Ranges from 38.4 VA to 474 VA depending on actuator
0.34A to 7.2 A depending on actuator
(1) 1/2" NPT conduit connection
Floating, modulating, 2-position
32 to 1754 lb (14.5 to 795.6 kg) depending on model
product family features
Good for chilled water, hot water and 50% Glycol applications
Ductile iron body construction
Stainless steel disc and stem
Manual gear wheel available
Actuators come with two 1/2″ conduit entries
more information & related documents
The Valve Solutions KB Series butterfly valves are available in sizes from 2″ to 24″ and come with a variety of options to meet your needs. The Fusion Bonded Epoxy coated body along with the EPDM seat and o-ring make for a very durable and long lasting butterfly valve. These valves are available in 100 PSI, 150 PSI, and 200 PSI close off ratings for 2 position control. These are available with low or high pressure pneumatic actuators or with Valve Solutions' new 1000X series actuators.
2W/2-1/2IN/200PSI/HP/PNEUM/3-15/PSI/MOD/SR/CLOSED