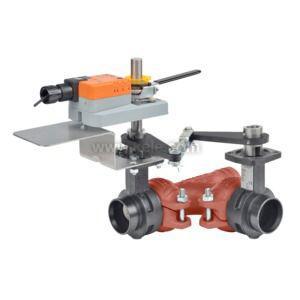 F750VIC+GMX24-MFT-X1 | Belimo | Control Valves
Butterfly Valve (BFV), 2", 3-way, Cv 115
Manufacturer:
Belimo
MPN:
F750VIC+GMX24-MFT-X1
SKU:
F750-0000000059
availability:Usually Ships in Less Than 7 Business Days
add to cart

product specifications
Butterfly Valve (BFV), 2", 3-way, Cv 115
BFLY-VLV/2IN/3W/115A CV/NSR/24V/MFT
product family features
Advanced seat and disc design provide bubble-tight shutoff while maintaining a low seating torque
Standard rotary actuators, or industrial grade NEMA 4 actuators for a variety of application requirements
Internal valve body five bushing design isolates the valve body from the shaft resulting in better control
Standard stainless steel disc and shaft for strength, durability and long-lasting operation
more information & related documents
The Belimo F6, F7 Series butterfly valves fulfill the requirements of commercial and industrial HVAC applications requiring positive shutoff for water. Applications include chiller isolation, cooling tower isolation, change-over systems, large air handler coil control and bypass, and various water distribution and storage systems. The F6 assemblies are two-way and the F7 are three-way flow patterns. Undercut disc assemblies, designated by "HDU" in the part number have a maximum close-off of 50 psid, and full-cut models, designated by "HD" part number, have full 200 psid close-off rating. Small size valves are available with economical Belimo rotary actuators and all sizes are available with industrial grade, NEMA 4 actuators, to meet most application requirements. Other sizes, assembly combinations, connection types, and materials of construction are available.
BFLY-VLV/2IN/3W/115 CV/NSR/24V/MFT