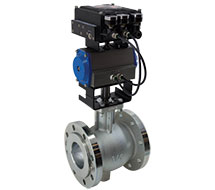 * product family image displayed
V-04-HP21 | Valve Solutions | Control Valves
2W/4IN/V-BALL/HP/PNEUM/2-POS/120V/EP
Manufacturer:
Valve Solutions
MPN:
V-04-HP21
SKU:
V04HP21
Availability:
Usually Ships in Less Than 3 Business Days
add to cart

product family specifications
Threaded/Wafered 1″ to 2″
1″ to 2″ ANSI 150/300 multi-rated
3″ to 6″ ANSI 150 or ANSI 300
125 psi steam, 50% glycol
-50° to 400℉ (-45℃ to 204℃)
product family features
Good for chilled or hot water, 50% Glycol, and steam
Stainsless steel body available
Equal percent flow characteristics
Factory mounted actuators
Electric or Pneumatic operation
Spring Return (SR) or Non-Spring Return (NSR)
Electronic or Pneumatic Actuators (factory mounted)
more information & related documents
The VSI V-Ball Series is a unique, industrial-grade valve with temperature, pressure, leakage, and close-off ratings that far exceed those of standard commercial grade valves. The V-Ball Series assures positive low-leakage control in higher pressure systems such as those with variable speed pumps. With a standard carbon steel body and a Standard ANSI 150/300 pressure-temperature rating, the V-Ball Series can handle up to 250 psi differential (close-off) in hot or chilled water systems and up to 150 psi saturated steam. These valves excel in high-rise building applications and any high-temperature/high-pressure/high-range-ability application.
2W/4IN/V-BALL/HP/PNEUM/2-POS/120V/EP