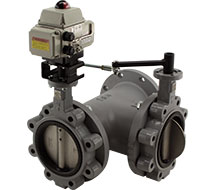 * product family image displayed
V-04/SEAT-KIT | Valve Solutions | Control Valves
4IN/V-BALL/REPLACEMENT/SEAT/KIT
Manufacturer:
Valve Solutions
MPN:
V-04/SEAT-KIT
SKU:
V04/SEATKIT
Availability:
Usually Ships in Less Than 3 Business Days
add to cart

product family specifications
Maximum Closeoff Pressure
40.8 VA to 474 VA depending on actuator
0.34A to 7.2 A depending on actuator
(1) 1/2" NPT CONDUIT CONN
FLOATING, MODULATING, 2 POSITION, 4 POSITION, 3 POSITION
120 thru 5690 lbs. depending on model
product family features
Good for chilled water, hot water and 50% Glycol applications
Ductile iron body construction
Stainless steel disc and stem
more information & related documents
The Valve Solutions KB Series 3-way butterfly valves are available in sizes from 2" to 24" and come with a variety of options to meet your needs. The Fusion Bonded Epoxy coated body along with the EPDM seat and o-ring make for a very durable and long lasting butterfly valve. These valves are available in 100 PSI, 150 PSI, and 200 PSI close off ratings for modulating control. These are available with low or high pressure pneumatic actuators or with Valve Solutions new 1000X series actuators.
4IN/V-BALL/REPLACEMENT/SEAT/KIT
KB1-3 - Series 1000-X Modulating - RevD
KB1-3 - Series 1000-X 2 Position-Specification Sheet
KB Series Ordering Information
KB SERIES XREF
VSI-Series1000-X Data Sheet
VSI-KB Series 3-Way Arrangement
VSI-Series 1000-X Installation Manual
VSI-Series-1000-X Control Pack Information
VSI Butterfly Valve Installation Series 2100
Kele Retrofit Form
KB1-3 - Series 1000-X - 2 Position - RevD
VSI-Series1000-X Data Sheet
VSI-Series1000-X Installation Manual