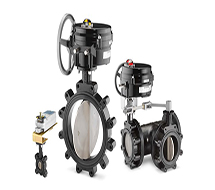 B204U | Siemens Industry | Control Valves
2W,4IN,50,PSI,VALVE
Manufacturer:
Siemens Industry
MPN:
B204U
SKU:
B204U
availability:Usually Ships in Less Than 5 Business Days
add to cart

product family specifications
ASTM A126 Class A Cast Iron
Disc for sizes 14" and above
Electroless Nickel Plated Ductile Iron
High purity, peroxide-cured, high temperature EPDM
Nitrile Butadiene Rubber (NBR)
Ductile Iron (3-Way valves only)
Body cold working pressure rating
-20 to 250°F [continuous] (-28 to 121°C)
Hot water, chilled water, condenser water up to 50% Glycol
Modified equal percentage
2" to 12", 175 PSI. full cut
14" to 24", 150 PSI, full cut
50 PSI dead end service, full cut
50 PSI, all under cut discs
Bubble tight at 175 PSI closeoff (better than ANSI class VI)
30 feet/second (9 m/second)
Max recommended differential pressure with flow
2-inch through 24-inch (DN 50 to 600)
Lug (2" through 20") or double flange (24"), 2-way and 3-way, ANSI 125 rated
product family features
• High purity, peroxide cured, high temperature EPDM seats to ensure continuous operation at 250°F (121°C)
• Corrosion-resistant, 316 Stainless Steel disc (2" through 12")
• Corrosion-resistant Electroless Nickel Plated Ductile Iron (14" through 24")
• Internal disc-to-stem connection to eliminate leakage through the stem
• Wide variety of direct mount actuators.
• Full 175 PSI and 50 PSI close-off pressure ratings available.
more information & related documents
Designed to last longer with minimal downtime, Siemens resilient seat butterfly valves are available in sizes from 2-in. to 24-in. (DN 50 to 600) built with the highest temperature and chemical resistance available in the market.Available in 2-way and 3-way configurations, 2-in. through 20-in. butterfly valves are lug style. 24-in. valves are double-flanged. All have ANSI 125 rated bodies. 3-way valves can be used for mixing and diverting applications and are available in multiple configurations to match job site needs.These valves are compatible with Siemens A-Series Industrial Electric, and OpenAir® Commercial Electric actuators. OpenAir actuators are available in in both spring return and non-spring return variants for two-position (On/Off), floating, and modulating control.All Industrial actuators include a heater to prevent condensation. Resilient seat butterfly valves provide bubble-tight shut off (leakage class better than ANSI Class VI) up to 175 PSI (full cut) and 50 PSI (under cut) requirements.