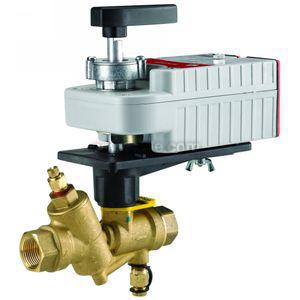 VRN2AGSXC002 | Honeywell | Control Valves
VRN2A005.00SX+MN6105A1201+3R--1/2in 2-way 5GPM Stainless Trim+Floating On/Off Fail in Place 24 VAC 2 Aux switches NEMA 3R Enclosure
Manufacturer:
Honeywell
MPN:
VRN2AGSXC002
SKU:
VRN2AGSXC002
availability:Usually Ships in Less Than 7 Business Days
add to cart

product specifications
VRN2A005.00SX+MN6105A1201+3R--1/2in 2-way 5GPM Stainless Trim+Floating On/Off Fail in Place 24 VAC 2 Aux switches NEMA 3R Enclosure
PICV/1/2IN/2W/5GPM-SS-FLTG ON/OFF24V-2AUX/NEMA3R
product family features
Sizes from 1/2 to 3 in. with internal (female) NPT connections
Controls hot or chilled water with up to 50% glycol
Regulated flow rates available from 1 to 95 gpm
Differential pressure regulator for constant pressure drop across valve seat
Positive pressure, rolling diaphragm regulator design for flow control accuracy of ±5%
Equal percentage flow characteristic using patented flow control ball insert
Multiple maximum flow rates available per valve size
Patented ball seals for low operating torque
Nickel-chrome plated brass or stainless steel trim
Choice of factory-installed actuation using Honeywell N05/S05-series direct coupled actuators: Floating, Modulating (2-10 V), Spring Return Modulating/Floating
Spring return actuators field-configurable for normally open or normally closed fail-safe position
Removable, manual operating handle to control valve during installation or in an event of power failure
Upstream Test Port for venting or pressure gauge attachment
Three actuator orientations on the valve for cramped spaces
Integral snubber eliminates affect of system pressure fluctuations and entrapped air while improving flow performance
more information & related documents
The Honeywell VRN Series pressure-regulated control valves reduce overall installation labor by integrating flow control and temperature control functions into a single valve assembly and then automatically controlling the flow in each hydronic system circuit to maintain temperature when piping pressures fluctuate. The valves feature an integrated pressure control cartridge that delivers flow balancing and control functions in one package. Calculating Cv is not required, simply match the circuit flow rate with the valve capacity to determine the correct model number. VRN valves are threaded, sizes 1/2" to 3" FNPT, and use standard Honeywell 44 in-lb fail-safe and non-fail safe direct-coupled actuators.
PICV/1/2IN/2W/5GPM-SS-FLTG ON/OFF24V-2AUX/NEMA3R
VRN Dynamic Pressure-Regulating Control Valves and Actuators Datasheet