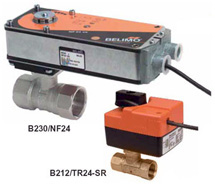 * product family image displayed
B250/ARB24-SR | Belimo | Control Valves
2W, 2, CV=57, NSR, PROP.
Manufacturer:
Belimo
MPN:
B250/ARB24-SR
SKU:
B250/ARB24-SR
Availability:
10 In Stock
product family specifications
Two-way, three-way mixing or diverting
Two-way equal percentage, three-way linear
0% for port A to AB; 2% maximum for port B to AB
Maximum Closeoff Pressure
1/2″-2″ 200 psig (1380 kPa)(2″ Cv 57 and under)
2″-3″ 100 psig (2″ Cv 65 and above)
Materials Of Construction
Forged brass body with nickel plating, chrome plated (or stainless steel) ball, PTFE Teflon® seals, Tefzel® characterized disc, EPDM o-rings
Hot or chilled water, <60% glycol
0° to 250℉ (-18° to 120℃)
Non-spring return TR, LRB, NRB, ARB; spring return TF, LF, AF
Maximum differential pressure 30 psid (207 kPa), higher could cause noise and/or damage
1/2" to 1-1/4" 600 psig (4135 kPa)
1-1/4" (B231) to 3" 400 psig (2758 kPa)
1/2" to 1" 600 psig (4135 kPa)
1-1/4" to 2" 400 psig (2758 kPa)
product family features
Equal percentage characteristic (2-way)
Large Cv range from 0.8 to 170
Assembled, ready for installation
Spring return or non-spring return actuators
Floating, two-position, or proportional control
more information & related documents
The B2 Series 2-way ball valves and B3 Series 3-way ball valves are used for two-position, floating or proportional control of HVAC hot or chilled water. Perfect for HVAC applications and Building Automation Systems, BAS, each two-way and three-way ball valve comes assembled with direct-coupled Belimo electric actuators with spring return or non-spring return operation.

B2, B3 Series Datasheet