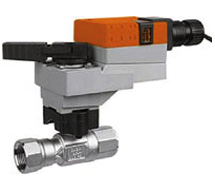 * product family image displayed
B215HT186/TR24-3 | Belimo | Control Valves
1/2 HIGH TEMP,2-W NPT,CV 1.86,/FLOAT
Manufacturer:
Belimo
MPN:
B215HT186/TR24-3
SKU:
B215HT186TR243
Availability:
Usually Ships in Less Than 7 Business Days
product family specifications
Maximum Closeoff Pressure
Materials Of Construction
Brass body (DZR) P-CuZn35Pb2, stainless steel ball and stem, Tefzel® characterized disc and seat, EPDM o-rings
Chilled or hot water, <60% glycol, <15 psig (104kPa) steam
60° to 266℉ (16° to 130℃) water, limited to 250℉ (121℃) for steam
Non-spring return: TR, LRB, LRX
Spring return: TFRB, TFRX
Non-spring return: TR, LRB, LRX
Spring return: TFRB, TFRX
Maximum differential pressure 60 psid (414 kPa) for water (partially opened), 116 psid (799 kPa) for B215HT455 only, 15 psid (104 kPa) for steam
product family features
Equal percentage flow characteristic
Assembled, ready for installation
Spring return or non-spring return actuators
Floating, two-position, or proportional control
Hot/chilled waer and low pressure steam up to 15psi
more information & related documents
The Belimo HTCCV Series 2-way high temperature ball valves are used for two-position, floating or proportional control of HVAC hot or chilled water, or low pressure steam. The valves come assembled with direct coupled Belimo electric actuators with spring return or non-spring return operation. This valve displays a true equal percentage characteristic. They come in standard sizes from 1/2" to 1" and Cv's from (0.29 to 28).
1/2 HIGH TEMP,2-W NPT,CV 1.86,/FLOAT

HTCCV Technical Documentation