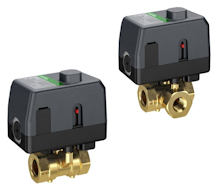 VBB2N11+M323A01 | Schneider Electric Buildings | Control Valves
3/4IN/2W/W/24V/PROP/SR/NC/ACT/10FT/PLENUM-CABLE
Manufacturer:
Schneider Electric Buildings
MPN:
VBB2N11+M323A01
SKU:
VBB2N11+M323A01
availability:Usually Ships in Less Than 14 Business Days
add to cart

product family specifications
24 Vac for floating and proportional
110 to 230 Vac for two position multi-voltage types
See Table-1, Table-2, and Table-3. in Datasheet
2-Position, Floating, or Proportional; half wave rectified power supply
Timing, Full Open to Full Close
See Table-1, Table-2 and Table-3. in Datasheet
Manual Operating Lever / Position Indicator
Auxiliary End Switch (optional)
SPST 24 Vac/Vdc, 101 mA…5 A max.
Thermoplastic base and cover. Approved for use in air plenums.
Shipping & Storage Temperature Limit
-40° to 169℉ (-40° to 76℃).
Operating Temperature Limit at max fluid temp.
Floating 32° to 140℉ (0° to 60℃)
Proportional 32° to 140℉ (0° to 60℃)
Two-Position 32° to 169℉ (0° to 76℃)
Humidity 5…95% relative humidity, noncondensing.
NEMA 2, IEC IP31. Indoor Use Only.
1/2″, 3/4″ (2 way or 3 way)
Hot and chilled water, up…60% glycol.
System Static Pressure Limit
20° to 250℉ -(7° to 121℃)
See Table-4, Table-5, Table-6, and Table-7. in Datasheet
130 psi Two-Way; 70 psi Three-Way
ANSI class IV (0.01%) at both A and B ports with pressure at inlet.
NPT threaded (VBxxNxx) and Rp threaded (VBxxRxx).
Stainless steel anti-blow out stem with dual Viton™ o-rings.
Chrome plated brass (VBB series) or stainless steel (VBS series).
product family features
Easy product selection - all actuators fit all valve bodies
Fast, easy actuator installation - no linkage or tools required
Brass and stainless steel trim models
Two-position, Floating or Proportional (0 to 5 VDC, 0 to 10 VDC, 5 to 10 VDC or 4 to 20 mA dc)
Proportional actuator is direct or reverse acting
more information & related documents
The Schneider Electric VBB/VBS Ball Valves Series are interchangeable valves and valve actuators, making it simple to implement upgrades and accommodate building system changes. As assemblies, the SmartX valve actuators and VBB/VBS ball valves series give users the freedom and flexibility to easily optimize and precisely control a wide variety of applications. They also accept floating and proportional control signals from a DDC system, controller, or thermostat for control of hot or chilled water, and solutions of up to 60% glycol. This makes them ideal for installation in VAV re-heat, fan-coil, and unit ventilation applications. The VBB/VBS Series proportional actuators allow easy configuration of control signals via Dip Switch. Dip Switches are accessed conveniently through an easy to open access hatch on the side of the actuator, eliminating the need to remove the cover of the actuator. Kele is the leading supplier of building automation products. When you need the right product, right now, count on Kele.
3/4IN/2W/W/24V/PROP/SR/NC/ACT/10FT/PLENUM-CABLE
Schneider Electric Buildings