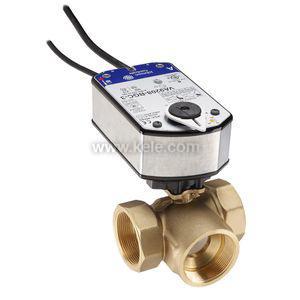 VG1845EP+928BGA | Johnson Controls | Control Valves
1-1/2" 3-Way Ball Valve, 18.7Cv, Stainless Steel Trim, Spring Open, No Switch, On/Off 24VAC
Manufacturer:
Johnson Controls
MPN:
VG1845EP+928BGA
SKU:
VG1845EPV928B3O
availability:Usually Ships in Less Than 8 Business Days
add to cart

product specifications
1-1/2" 3-Way Ball Valve, 18.7Cv, Stainless Steel Trim, Spring Open, No Switch, On/Off 24VAC
3W, 1-1/2 IN, CV=18.7, SR 2POS 24V, NO
product family features
Minimum 200,000 full cycle life expectancy
Compatible with water, glycol, and low-pressure steam
Equal percentage flow characteristics
Assembled or ordered separately
more information & related documents
The Johnson Controls VG1000 Series ball valves are available with two- and three-way body patterns with a characterized insert for equal percentage flow control and Cv ratings in the range of traditional globe valves. They are available in connection sizes from 1/2" to 2" (Cv's from 1.2 to 73.7). The VG1000 Series valves are used in combination with spring return and non-spring return direct-coupled actuators from Johnson Controls. The VG1000 Series are designed to control chilled water, hot water, 50% glycol, and 15 psig steam (stainless trim models only).
3W, 1-1/2 IN, CV=18.7, SR 2POS 24V, NO