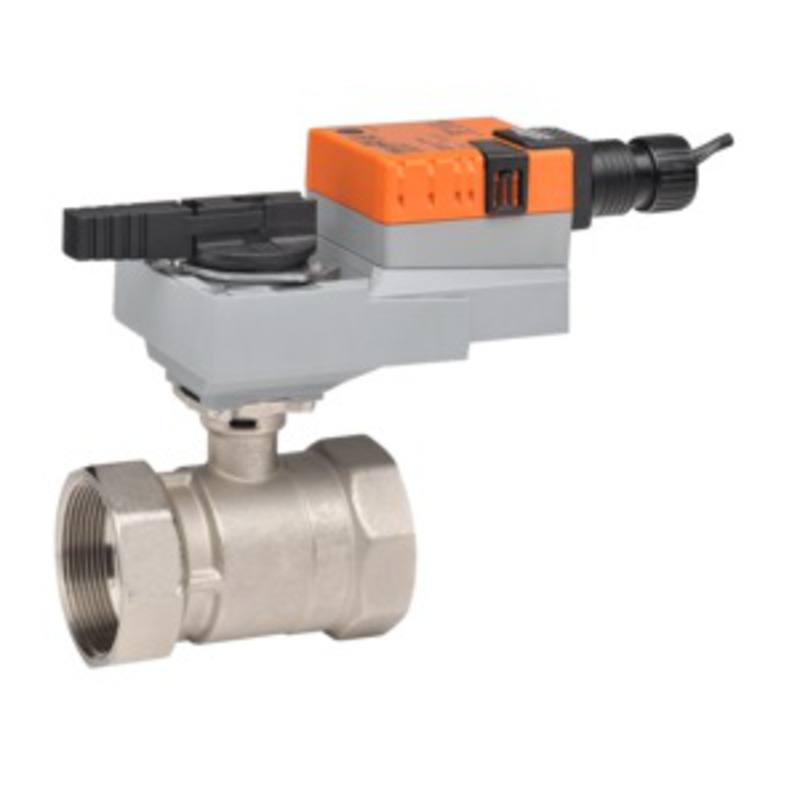 B214B+LRB24-SR-T | Belimo | Control Valves
CCV, 0.5", 2 Way, 7.4 Cv, w/ Non-Spring, 24V, Modulating
Manufacturer:
Belimo
MPN:
B214B+LRB24-SR-T
SKU:
B214B/LRB24SRT
Availability:
Usually Ships in Less Than 7 Business Days
product specifications
cULus acc. to UL60730-1A/-2-14, CAN/CSA E60730-1:02, CE acc. to 2004/108/EC
Ambient Temperature Range
-22°F to 122°F [-30°C to 50°C]
forged brass, nickel plated
Body Pressure Rating (psi)
CCV, 0.5", 2 Way, 7.4 Cv, w/ Non-Spring, 24V, Modulating
Direction of Rotation (Motor)
reversible with built-in switch
screw terminal (for 26 to 14 GA wire)
100 k Ω for 2 to 10 VDC (0.1 mA), 500 Ω for 4 to 20 mA
Media Temperature Range (Water)
0°F to 250°F [-18°C to 120°C]
Power Consumption Holding
Power Consumption Running
24 VAC ± 20%, 50/60 Hz, 24 VDC ± 10%
Characterized Control Valve
90 sec (default), variable (150, 90, 45, 35 sec)
chilled, hot water, up to 60% glycol
Storage Temperature Range
-40°F to 176°F [-40°C to 80°C]
3 VA (class 2 power source)
product family features
Equal percentage characteristic (2-way)
Large Cv range from 0.8 to 170
Assembled, ready for installation
Spring return or non-spring return actuators
Floating, two-position, or proportional control
more information & related documents
The B2 Series 2-way ball valves and B3 Series 3-way ball valves are used for two-position, floating or proportional control of HVAC hot or chilled water. Perfect for HVAC applications and Building Automation Systems, BAS, each two-way and three-way ball valve comes assembled with direct-coupled Belimo electric actuators with spring return or non-spring return operation.
2W /1/2IN/CV 7.4/NSR/45IN-LB/2-10 VDC/24V

B2, B3 Series Datasheet