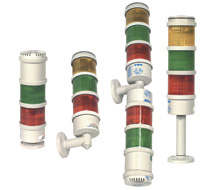 * product family image displayed
TWS-X4-G | EE Controls | Alarms & Indication
24VAC GREEN XENON STROBE
Manufacturer:
EE Controls
MPN:
TWS-X4-G
SKU:
TWS-X4-G
Availability:
Usually Ships in Less Than 5 Business Days
add to cart

product family specifications
Blue, Amber, Red, Green, Yellow, Clear
65 FPM ±10 FPM(24 VAC/DC)
90 FPM ±20 FPM (110/240 VAC)
Medium, 76-86 dB @ 1 meter
-22° to 140°F (-30° to 60°C)
14° to 122°F (-10° to 50°C)
NEMA 4, IP65, Horn derates to IP20
NEMA 1, IP20 upward mount
NEMA 1, IP24 downward mount
2.68"H x 2.95" dia (6.8 x 7.5 cm)
2.72"H x 2.95" dia (6.9 x 7.5 cm)
3.11"H x 2.95" dia (7.9 x 7.5 cm)
product family features
Each lamp individually initiated
24 AC/DC or 110VAC voltages
5 modules per stack (10 with Double Stack)
more information & related documents
The TWS Series tower lights allow the installer to stack up to five different emergency signaling devices in a single location. Each emergency signal device has its own set of contacts. The flexibility of the tower lights make them indispensable in the building automation systems, BAS, environment. Starting with a bottom module, up to five devices can be added in any combination of continuous and flashing incandescent lights, continuous and flashing LED lights, and Xenon strobes. Each stack can be capped with a horn. Each light comes in a variety of colors, and all lamps are replaceable. Several wall- and pedestal-mounting configurations are available.