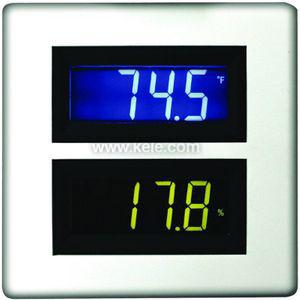 SRMDDWBNWGT | Setra | Alarms & Indication
Room Pressure Double Monitor, White Bezel, Top Display Blue Color, No Measurement Paramter (Top), SRH Wall Mount SRH12PW2CT5N, Bottom Display Green Color, Temperature Measurement (14 to 140°F) (Bottom)
Manufacturer:
Setra
MPN:
SRMDDWBNWGT
SKU:
SRMDDWBNWGT
availability:Usually Ships in Less Than 10 Business Days
add to cart

product specifications
Room Pressure Double Monitor, White Bezel, Top Display Blue Color, No Measurement Paramter (Top), SRH Wall Mount SRH12PW2CT5N, Bottom Display Green Color, Temperature Measurement (14 to 140°F) (Bottom)
DUAL RM MON, WHT BEZEL, BLUE/GRN, WALL, NONE/TEMP
product family features
Highly visible 1″ LCD display
Single LCD display or dual LCD display model
Available in red, green or blue LCD backlight
Available with White or Metallic Bezel
Mount in standard 4-11/16″ sq. electrical box
Compatible with any analog sensor with 0-5VDC or 0-10VDC output
more information & related documents
The Setra SRMD Model's temperature and humidity display panel features a CE compliant, high visible, large 1 inch 3.5 digit LCD display and an attractive flush mounted faceplate bezel. This display panel is compatible with any temperature, humidity, CO2 sensor that has a 0 to 5 VDC or 0 to 10 VDC analog output.
DUAL RM MON, WHT BEZEL, BLUE/GRN, WALL, NONE/TEMP