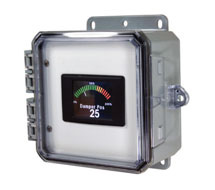 SFP66-258D | Kele | Alarms & Indication
PANEL FOR SGD-28, DOUBLE CUTOUT
Manufacturer:
Kele
MPN:
SFP66-258D
SKU:
SFP66-258D
availability:Usually Ships in Less Than 28 Business Days
add to cart

product family specifications
0.05% typical, 0.1% maximum
0/2-10 VDC, 4-20mA (with resistor) 0-40 VDC max
Screw terminals, 16 to 26 AWG
Thin Film Transistor (TFT) LCD
2.4 inch diagonal 320 x 240 pixels,16-bit color
2.8 inch diagonal 320 x 240 pixels, 16-bit color
Compatible with Windows XP, 2000, Vista, Windows 7, mini USB cable connection
1.81"H x 2.91"W (4.60 x 7.40 cm) 0.11″ (3 mm) maximum panel thickness
2.15"H x 3.43"W (5.45 x 8.70 cm) 0.11″ (3 mm) maximum panel thickness
32° to 104°F (0° to 40°C)
Additional Specifications
Meter choices- Bar graph, analog needle, digital readout, combinations
NEMA 1 standard NEMA 4X optional
1.9"H x 3.0"W x 0.7"D (4.8 x 7.6 x 1.8 cm)
2.2"H x 3.5"W x 0.8"D (5.7 x 8.9 x 1.9 cm)
6.0"H x 6.0"W x 3.0"D (15.2 x 15.2 x 7.6 cm)
product family features
2.4" or 2.8" color TFT-LCD screen for high visibility
Free PanelPilot software saves money
Simple USB cable connection for quick setup
6 standard meter types, selectable colors, scales, and labels for display flexibility
Splash screen accepts common picture files and allows customization
Snap-in panel mount for fast installation
NEMA 4X enclosure option with single or double display mounting
more information & related documents
The Lascar Electronics SGD-24, -28 Series PanelPilot Smart Graphics Display is a configurable panel-mount analog input display with selectable graph colors, input signal scales, and meter display types. It can be used to display any proportional control or transmitter signal represented by an analog voltage signal between 0 to 40 VDC. It is easily and quickly field-configured using simple software, via a USB cable, or is available preconfigured from Kele. It has a customizable splash screen and comes in a 2.4″ or 2.8″ screen size. A NEMA 4X enclosure is also available which can house one or two displays, preassembled at Kele or separately available for field installation.
PANEL FOR SGD-28, DOUBLE CUTOUT