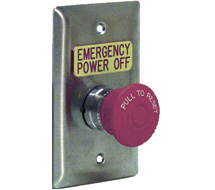 WPS-CP2-VS | Pilla Electrical Products | Alarms & Indication
PLATE EMER STA MAINT CLR LID VENT STOP
Manufacturer:
Pilla Electrical Products
MPN:
WPS-CP2-VS
SKU:
WPSCP2VS
availability:Usually Ships in Less Than 3 Business Days
add to cart

product family specifications
Additional Specifications
Related Products Note: Three contact blocks can be used for a depth of 1-5/8" (42 mm). Three more can be added for a depth of 2-5/8" (67 mm).
product family features
Order contacts separately for wiring flexibility
Hinged lockout lids options
Single-gang wall or handy box mounting
more information & related documents
The WPS Series plate-mounted operator stations mount on a single-gang wall box or a standard handy box. Designed specifically for building automation systems, BAS, applications, these NEMA 1 operator stations come with brushed stainless steel plate. Many options are available for the WPS Series in addition to the models shown on our catalog page. Mounted on brushed stainless steel wall plate, hinged lockout lids options, special configurations and labeling are available. Select single-gang wall or handy box mounting. Contacts rated 600 volt at 10 amp AC and 2.5 amp DC. One-year warranty. The WPS-BR units do NOT use the standard PILNCCB/PILNOCB contact blocks, they use the PILKBR units which are a different design and come standard with 1 NO and 1 NC.
PLATE EMER STA MAINT CLR LID VENT STOP
Pilla Electrical Products